Quantum Real Estate Web Solutions
Quantum Real Estate Web Solutions (QRES) is a mature web solutions package designed for Real Estate Professionals. Authored by Alison and Andrew Makin from the ground up, it is now in its third generation and continues to get better in every possible way.
Quantum23 are specialists in building responsive bespoke Property websites for Estate Agents that work either standalone or integrate with third party MLS data. We work alongside the biggest Multi Listing Service providers in Spain – Resales Online, InfoCasa, Inmoba Networks, Milenio Plus and Kyero – allowing you to import property listings into your website, as well as giving you control over listing and managing your own properties.
QRES is built on a solid bespoke framework and the powerful responsive admin panel allows you to create, edit and delete unlimited property listings. Add multiple images, create keyword-targeted property descriptions and meta data for better on-page optimisation.
QRES bespoke websites have a full multilingual capacity and all our translators are native to their country to ensure you capture the nuances of their language. Google translate is good, but it's not good enough for us!
We work crossly with our clients to ensure you as a property professional gets the best Real Estate software and web design Spain has to offer.
Our Real Estate web solutions come in several website packages so you can choose the best solution for your business. Which product you choose is dependent on your budget, whether you want to maintain your own listings within your own website or within your MLS providors admin and whether you want to be in more control of your marketing budget.
Having a great looking website does not guarantee you leads. That's where Real Estate marketing takes over. We have teamed up with some of the best marketing professionals on the Costa del Sol who specialise in lead generation through Pay per Click Advertising, Social Media, Email Marketing, onsite optimisation, content marketing and more.
Quantum23 are also listed on the Resales Online KnowledgeBase as one of the web design companies who have the most experience with their system.
Websites We've Designed & Built
As the authors of QRES, nobody knows the product as well as we do.
We have built more than 150 custom Property websites for Real Estate businesses in Spain making our Real Estate Web Solutions one of the most bespoke software packages in Spain.
See Our Work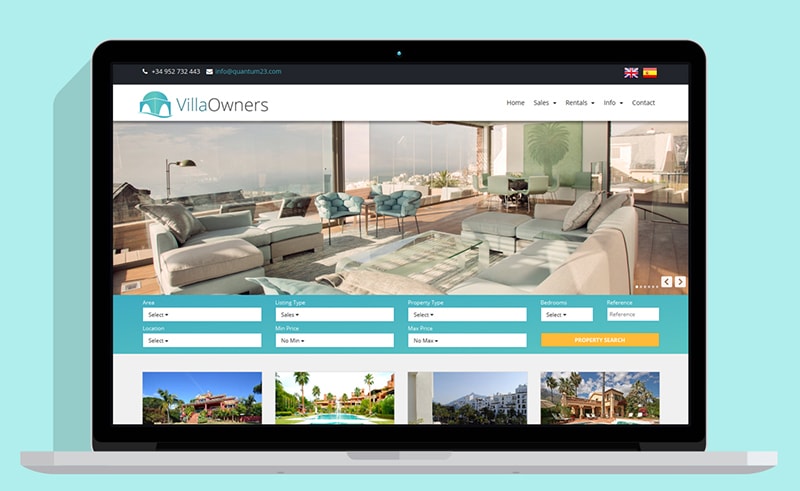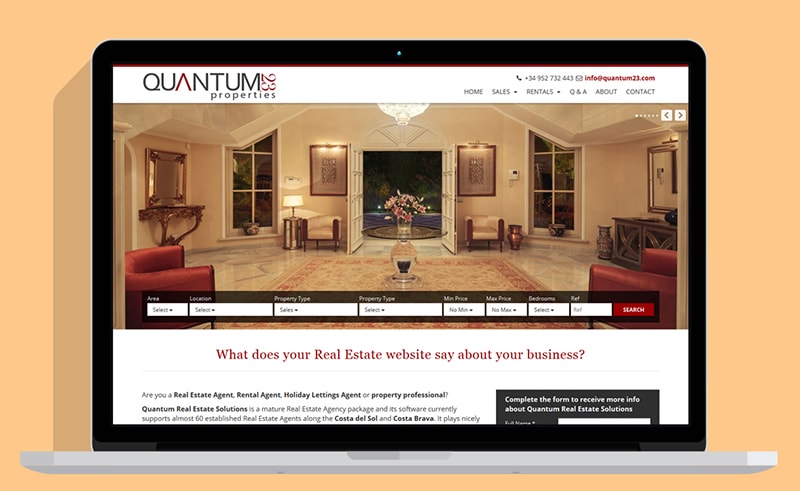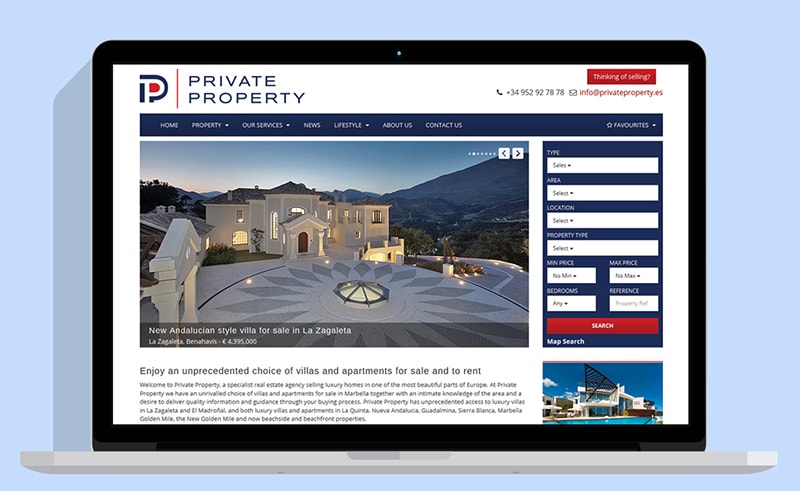 One Stop Solutions
The out of the box solution is big on features, easy on the pocket and not demanding on your time. But don't let the simplicity fool you, this is a powerful tool.

Any Device
Our intuitive websites are built to be responsive to the device from the ground up and works seamlessly on mobile phones, tablets, laptops and desktops.

MLS Integration
Available as QRES standalone or can be integrated with Resales Online, InfoCasa and Kyero MLS feeds. We also provide support for XML exports to major MLS suppliers.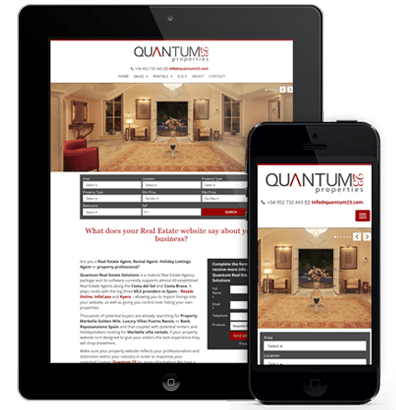 Responsive & Adaptive
QRES is not only responsive. It also adapts itself into every screen resolution. It is coded and designed to look perfect in full range of devices.
---
Solid Framework
QRES is built on a solid bespoke framework using the tried and trusted technologies to provide a robust multi device website.
---
Powerful Admin
The QRES admin panel allows you to create, edit and delete any number of listings with unlimited images and fine tune the display parameters and functionality of the website.