Approximately 30% of our current clients were originally sold WordPress Real Estate websites but found themselves regretting it. WordPress is a great blogging platform but as with many free open source platforms, it is not without its problems.
Why don't Quantum23 build WordPress Real Estate websites?
Our customers provide services to a particular clientele and need a website that reflects their level of professionalism in a competitive market. An  'off the shelf, one size fits all' template-based website does not fulfill the level of excellence they demand or their need to stand out from the crowd. Our clients value having a custom website built to fit their requirements and know that we personally build each website from the ground up.
We used to be big, big fans of WordPress, after all, it's a quick and cheap way to get a website up and running.  So what changed our minds? The main problems we experience are security, flexibility, and maintenance. Maintenance and security go hand in hand with security being the biggest headache. It is paramount that WordPress, the theme template and all plugins are kept up to date at all times. This means that most months, if not weeks, there will be an update to install. The core WordPress platform now updates itself every few versions so your website should never more than two or three versions out of date. The theme and plugins, however, must be updated manually and additional security plugins must also be installed to protect yourself from attempted logins and brute force attacks. Many WordPress plugins also have vulnerabilities.
Brute force attacks are relentless attempts to log in to your admin panel by either individuals or automated events. There are hardened WordPress hosting environments for websites and hosting is often priced higher due to the extra security required. We regularly see a  big surge in server load when WordPress sites come under attack which happens more often than you think – it's not uncommon for 500 attempted intrusions a month. But, if you've got security locked down, you're halfway to solving the problem.
This website runs on WordPress and regularly gets hit with brute force attacks. This is a screenshot of the 28 email notifications I received for intrusions on our website over a period of 20 minutes. * Update – 25 days later we were still experiencing a brute force attack on this website with over 2,000 intrusions and have also received a notification that the premium purchased theme has a severe vulnerability. We are currently working on rewriting the website with our own QRES CMS to overcome this.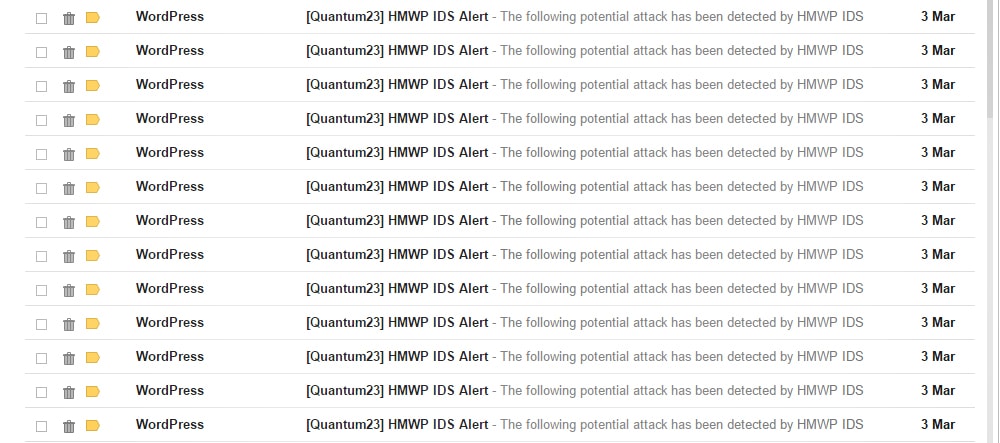 There are some good WordPress Real Estate themes available such as WPCasa which is free to download and Real Homes. Anybody can purchase WordPress themes from websites such as Themeforest with themes priced at around €60. If you're a real technophobe, you may still require the services of a web designer to set the theme up which typically takes between 10 – 40 hours depending on the complexity of your website. When you are quoted for a WordPress website, do the math and work out how much you are really paying and what the ongoing maintenance costs are if you can't keep the website up to date yourself. And remember, your website is going to look the same as many other property websites using the same template. Real Homes has sold almost 11k themes on Themeforest alone, so your website is far from being unique. That and WPCasa are both great looking themes and are without a doubt two of the most popular Real Estate website templates used along the Costa del Sol.
Keeping your WordPress website up to date costs time, and therefore money, to maintain on a monthly basis. One website enquiry we received in recent months was from an agent who had been led down the WordPress route. He got a cheap website built with an XML feed for a low cost, but found he was paying an average €200 a month in maintenance fees. Every time he picked the phone up to his web developer, it was costing him €50 an hour – yikes!! He soon realised that after just one year, a QRES custom designed website built to his specific requirements would have cost far less than his 'cheap' WordPress website. Unfortunately he was stuck with it for the foreseeable future as he didn't have the budget to start again.
Manage Sales, Long Term and Short Term information from one listing
Flexibility of software can be an issue with WordPress Real Estate websites. The biggest gripe we hear is that one single listing which is available for Resale, Long Term Rent and Short Term Rent has to be maintained as 3 separate listings on WordPress websites. Imagine having 10,000 listings that fall into that category. With WordPress websites, you've now got 30,000 properties to maintain, plus the other 20,000 that fall under one listing type. It can quickly become a labour of love and in some cases costly, particularly if you are being charged for every update required.
Clients who come to us asking for a bespoke website, do so either because their site does not represent their business on a professional level, their site is just not flexible enough or their web developer is charging them for every little thing that needs fixing or updating. If you're a new agent or have a limited budget, WordPress might just be what you're looking for and with a little knowledge, you can set one up yourself. It's a great blogging platform, but it has to be set up right, have good hardened WordPress hosting, extra security plugins and be constantly kept up to date.
These are just some of the reasons we no longer use or support WordPress websites but if you really want a WordPress website, all is not lost. There are plenty of WordPress designers on the Costa del Sol that can assist you in setting up your website, but we're not one of them.
Our only recommendation is that you get recommendations from other Agents on who to set their websites up, if they were happy with the service they received and what the real costs of having a WordPress website are – not just the initial set-up cost, but also the ongoing maintenance costs.
---

Quantum23 products & services are designed for Real Estate agents, businesses in the property sector and property professionals.